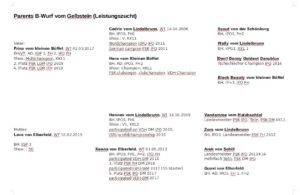 infos on working-dog

Father :
Prinz vom kleinen Büffel, WT: 02.03.2017
Prinz convinces with his impeccable, friendly and spirited nature. Despite his young age, he can already boast remarkable successes both in the exhibition area and in the sporting area. Prinz is medium-sized, correctly constructed and has an impressive, hard coat.
find him in working-dog
competition:  BH, AD, IPO-VO, IPO1, IGP2, IGP3, FH2, IGP-FH, Kkl.1
Vize-Landesmeister IGP3 2019
show: V-Bewertung, PSK-Klubsieger, ISPU-Klubsieger, Klubchampion,
Deutscher Champion PSK, Schweizer Ausstellungschampion
VDH-Champion , mehrfach BOB & BOS
Best in Show Working-Dog,
Schönster Hund der OG Osnabrück 2018 & 2019
Mother:
Lava von Elberfeld, WT: 16.02.2015
Lava is spirited and friendly. At home and in the office Lava is rather calm and relaxed, but on the dog place she shows herself highly motivated and full of enthusiasm for work! Lava is medium sized, correctly built and has a hard coat.
competition: BH, IPO3
show: SG